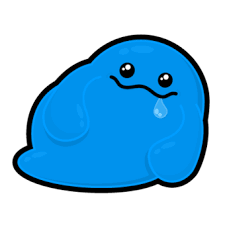 The Blob Blog is a medium rated room in TryHackMe by bobloblaw. It involves port knocking, decoding of different encrypted ciphers, command injection, binary reversing with ghidra, dynamic analysis of binary with gdb and using tar wildcard for privilege escalation.
Port Scan
All Port Scan
We only have two ports open.
HTTP Service on Port 80
Checking the source of the page
Here we have a something which looks like base64 encoded string which can be identified by the trailing == and the other one has a encoded credentials for user bob.
Base58 Decoding
The string HcfP8J54AK4 is a base58 decoded string. So, I decoded it using cyberchef

I am using a random password as the rule in THM says to hide the sensitive information.
Base64 Decoding
After decoding, we get a different kind of cipher which I know to be a brainf**k language.
Decoding Brainf**K on dcode

Decoded Content
This has a hint related to port knocking sequence. With port knocking if we make a request with specific port sequence, then the firewall rule will be run on the server which might be configured to open few other ports.
Port Knocking
I used telnet for the port knocking.We can also use nmap for the port knocking.
Looking at the wireshark

Network Scan for all Ports
And this time, few other ports are open.
Detail Scan
Here on port 445 and 8080, HTTP service is running and FTP is running on port 21.
Port 21
We successfully log in as bob and the decoded password and downloaded a file called cool.jpeg.
Steghide to extract the content
We can not extract anything with empty passpharse. But its good to always check using steghide for jpeg files. And there was not much information on the metadata too.
HTTP Service on Port 445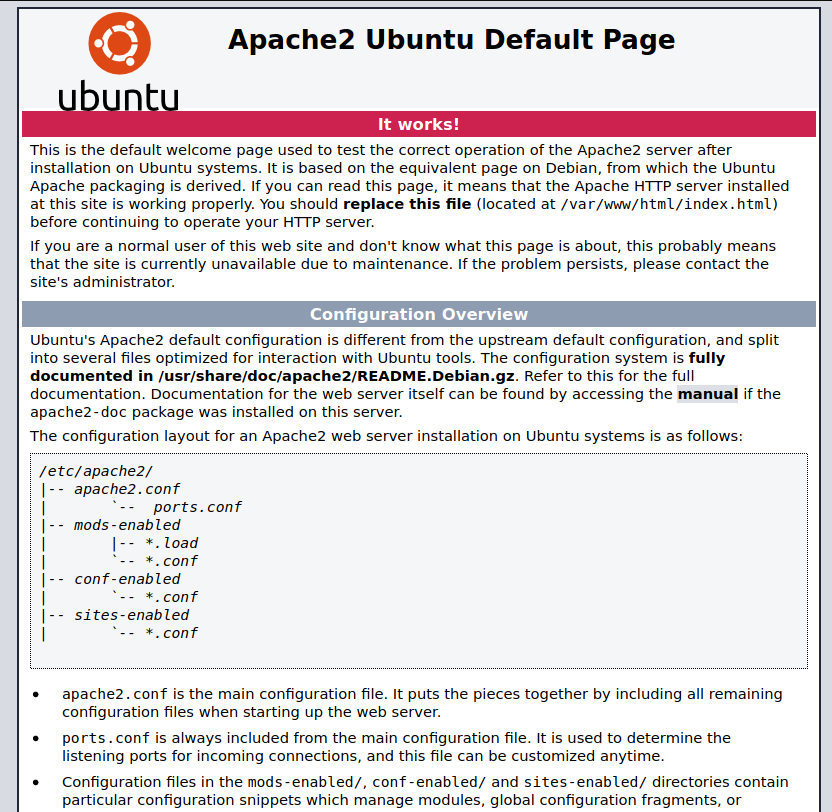 Another default page for Apache.
Checking the source
We get another password. So, I thought this might be the password for extracting contents from the jpeg file.
Steghide
And this time we get a file back.
Content of out.txt
Here we get a link and something the looks like a username:password combination and looking at the cipher identifier online, this ciphertext might be encrypted using vigenere cipher.
visiting /bobs_safe_for_stuff
Looks like the username:password combination we found above is a username:password combination for bob and it is ciphered with the key <vigenere-cipher-key-redacted>
Decoding the content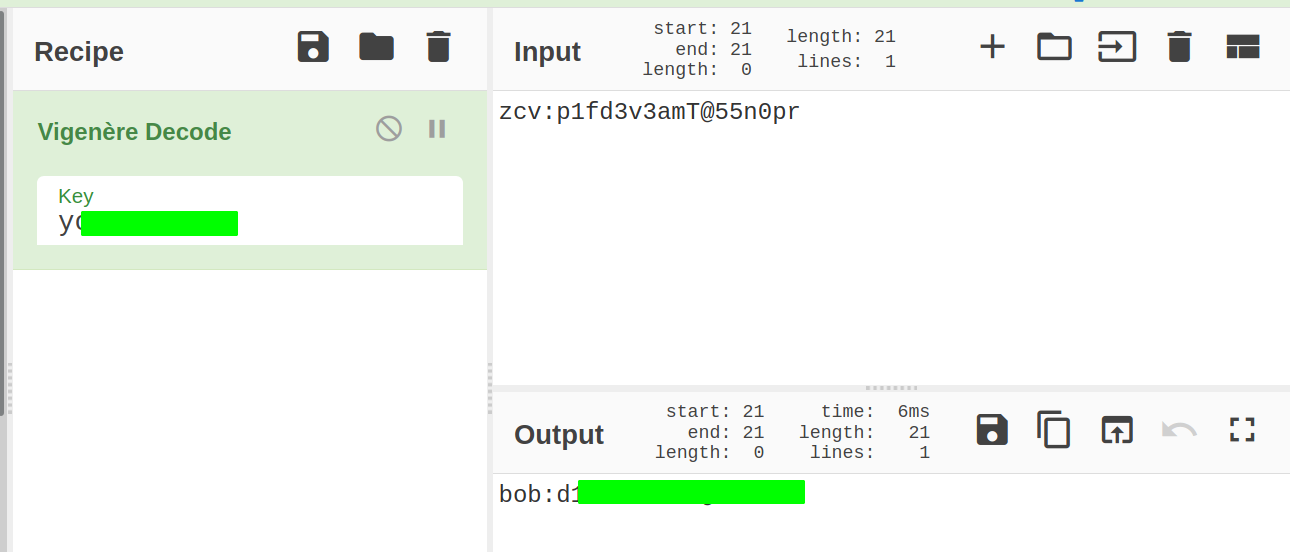 And we get a password for bob.
Checking Port 8080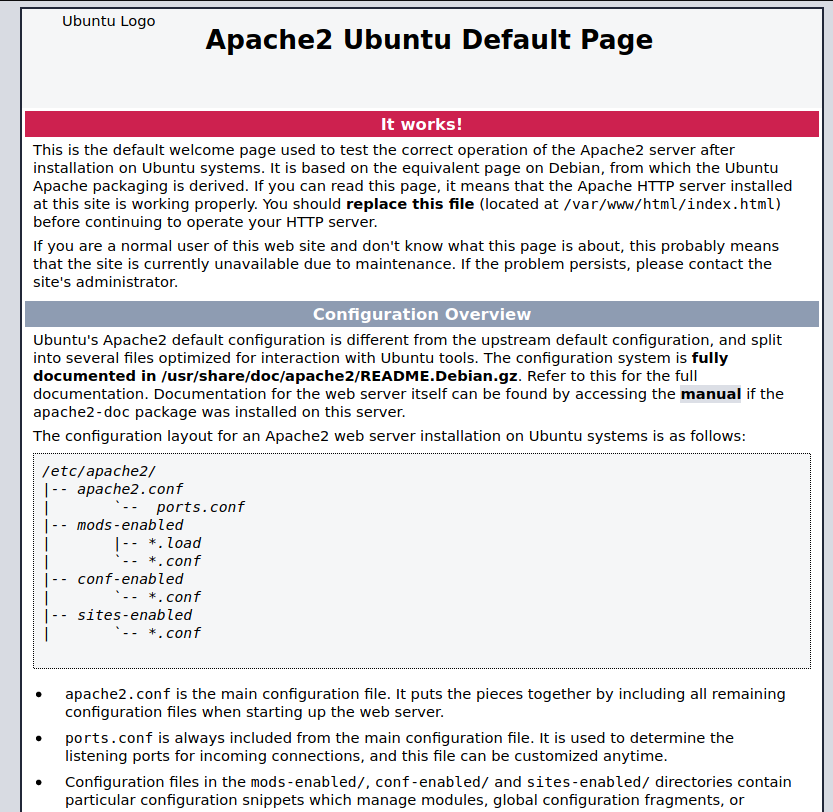 And yet another Apache default page on port 8080. But there was nothing on the source this time.
Directory Bruteforce
Checking /login

Lets login with the previous credentials for bob.

And we login. Looking around the blog, we can view few blog posts, can submit the review and can see the last review that we submitted. So I started to play with the review if I can get command injection, so I tried payload like ;id, & id, but they are reflected as it is. Then I tried if there is some sort of SQL injection and many things. At last just id did the trick.
Command injection


Now that we have got code execution, lets try and get a reverse shell on the box.
Shell as www-data
Listening on our box
Reverse shell payload
Submitting a review

And while trying to check the submitted review, we get a shell back.
Now this shell is a bit hard to work with as it is not interactive. It lacks using arrow keys, autocompletion, and using keys like CTRL+C to kill a process. So We have to make this session a interactive session.
Getting a proper TTY
Now lets get a proper shell with auto completion.
Hit CRTL+z to background the current process and on local box type
and type fg and hit enter twice and on the reverse shell export the TERM as xterm.
Now we have a proper shell.
Privilege Escalation
Users with shell
Checking /etc/crontab
There is a cron which is running as root and archiving all the files inside /home/bobloblaw/Desktop/.uh_oh and using wildcard which can be easily exploited to get a root shell on the box.
Checking permissions on the folder /home/bobloblaw/Desktop/.uh_oh
The problem is we can not access that folder. If we have a way to acess that folder, we can get a root shell using tar wildcard vulnerability.
Checking for SUID binaries
I ran lipeas first to check for all the SUID binaries, but as this is a hard box, I am not going to show the process here. Here I will search for the SUID binary owned by bobloblaw directly.
There is a binary called blogFeedback, that is owned by user boblobaw. If we can find any misconfigration there, we can execute commands as user bobloblaw. Lets download the file and analyse on ghidra. I downloaded the file by serving the directory /usr/bin using Python http.server.
Reversing binary using ghidra
There are two checks being implemented. The first checks for the argument number and the second check checks the argument value. If we pass the both checks, we can get a shell as user bobloblaw.
Bypassing first check
And with 6 arguments the first check is bypassed. For the second check, I used gdb for dynamic analysis.
Using GDB for finding the argument value
Here the comparison is done on main+102, so I set a break point on main+102 and I will check the value of the two registers eax and edx.
I ran the program with 6 arguments and the breakpoint is hit. Lets check the register values.
The value of rax is 0x01 and the value of register rdx is 0x06. So, we know the first value of the argument should be 6.
Rerunning the binary as first argument as 6
This time we hit a breakpoint and I continued the program execution sequence and program execution stops at the breakpoint again which means we ran through the loop once which is a great sign.
Checking the value of register
The value that we provided was 2 and the value that we should have provided to bypass the check is 5. So, we get the gist now. The aguments should be 6 5 4 3 2 and 1.
Running with the obtained arguments
We get a shell as bobloblaw. COOL!!
Reading user flag
Root Privilege Escalation
The folder is owned by root and we dont have a permission to go inside the directory. But if we go a step back and check the whole parent directory, that is owned by us.
So what we can do is move the whole parent directory and create another subdirectory called .uh_oh and then we can create files inside that.
Running commands as root
Now for root, this blog post explains very nicely how we can use tar wildcard to execute commmands.
Commands used on the post
So, lets use these commands and create files on the directory.
And now we wait for the cron to make an archive which we execute commands inside file shell.sh.
Checking /tmp/bash
The binary is owned by root and has SUID bit set.
Getting a root shell
And we have a euid of root.
Reading root flag